With Windows Phone 7, Microsoft went from being a non-entity in the world of modern smartphones to becoming an important player. The old Windows Mobile operating systems had their fans, but they weren't as consumer-friendly as the
iPhone
and Android devices.
WP7 changed all that, bringing integration with Facebook, a clear, touch-friendly user interface, slick multimedia functionality and Xbox Live games and connectivity.
Of course, Microsoft didn't forget its roots, either. There's email and Exchange support, and it's the only mobile OS with official Microsoft Office apps. All of this means there's something for everyone, so we've looked at what's best for each kind of owner below.
Best for working - HTC 7 Pro
As the only phone operating system with Microsoft Office apps available for it, Windows Phone 7 should be ideal for getting a bit of work done outside the office. However, a touchscreen software keyboard is the only option on many of the phones currently available, which isn't ideal for writing any longer documents. This is where the HTC 7 Pro comes into its own over the other handsets, offering a landscape QWERTY keyboard for getting your fingers into. You'll be able to see your documents clearly enough on the 3.6-inch screen, while the usual Windows Phone 7 1GHz processor powers things. There's also a five-megapixel camera and 8GB of storage.
Read TechRadar's full HTC 7 Pro review
Best for video - Samsung Omnia 7
With its ability to record and play back 720p video, Windows Phone 7 devices can make for great video players, but it's the Omnia 7 that has the edge, thanks to its AMOLED screen. It's still got the standard resolution of 480 x 800 in the four-inch display, but boasts vivid colours and incredible deep blacks thanks to the OLED technology. The Zune software required to load videos is still irritatingly slow, but the screen makes up for it once you get it on the device. With up to 16GB of storage available, you should be able to store plenty of entertainment. There's also a five-megapixel camera for recording your own videos.
Read TechRadar's full Samsung Omnia 7 review
Best for photos - HTC 7 Mozart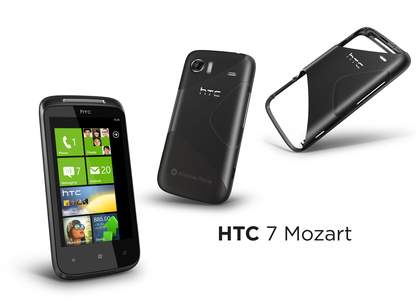 With the hardware standardised on many Windows Phone 7 handsets, five-megapixel cameras seem to have become the norm. The Mozart offered something a bit juicier for phone photographers, however, boasting an eight-megapixel snapper instead. The improved resolution is also paired with a Xenon flash, instead of the usual LED option. The difference really comes though, and the Mozart is capable of producing some excellent pictures for a phone. Unfortunately, video recording hasn't been bumped to 1080p Ð it's still the usual 720p Ð possibly because the single-core 1GHz processor isn't quite up to it.
Read TechRadar's full HTC 7 Mozart review
Best for size - HTC HD7
The HTC HD7 is easy to spot compared to the other Windows Phone 7 options. It's not particularly differently styled Ð it's just massive. It's a 4.3-inch beast, though there's no upgrade from the standard 480 x 800 resolution to fill that space. With an OS as visually driven as Windows Phone 7, which uses icons to display information wherever possible, the extra size can make a big difference. It often feels a lot easier to interact with the phone, though there's obviously a significant trade off when it comes to size. The large screen works well for video (though the AMOLED screen on the Samsung Omnia 7 still bests it), and there's even a built-in kickstand for propping the device up.
Read TechRadar's full HTC HD7 review
Best for apps - LG Optimus 7
While some Windows Phone 7 handsets differentiate themselves with hardware, LG took the software route. The Optimus 7 boasts two clever apps in particular that neatly expand on what Windows Phone 7 can do. Play To is a DLNA app, enabling you to stream photos, music and videos between devices. It's a great way to send photos quickly to your TV for viewing, or sending your music to someone else's PC for an evening's entertainment. The other app is ScanSearch, an augmented reality app that can point you in the right direction for something you want to find if you hold the phone up. In fact, point it at the sky and you'll even be told the weather forecast. In addition to the pre-loaded apps, there's also an ample 16GB of storage to fill with downloads from the Marketplace.
Read TechRadar's full LG Optimus 7 review
Best for value - HTC 7 Trophy
The HTC 7 Trophy made its way into the works with one primary purpose: be really, really cheap. With all the other Windows Phone 7 handsets launching at costs of over £30 per month each, the Trophy stood out by being free at just £25 per month. Its value has eroded slightly compared to Android phones in particular in the last six months, but it's still an incredible amount of smartphone for the money. The only really noticeable cut corner is the screen, which is still 480 x 800, but doesn't as good viewing angles as the higher-end phones. However, there's a 1GHz processor keeping things ticking over, and the build quality is as good as any option here.
Read TechRadar's full HTC 7 Trophy review
Best for messaging - Dell Venue Pro
The Dell Venue Pro brings something of the BlackBerry experience to Windows Phone 7, offering a portrait slide-out QWERTY keyboard much like the
BlackBerry Torch
. Because the phone is kept in portrait, unlike the HTC 7 Pro, it's easy to see the messages that have gone back and forth in the threaded speech bubble view, and without the on-screen keyboard to clutter things up. It's got an AMOLED screen as well, so videos look great on the large 4.1-inch screen.